Let's take a moment for our boobs – they're pretty darn amazing, right? That said, they can also be leaky, swollen, sore and, at times, completely alien to you. Whether you breastfeed or not, all boobs experience significant changes during pregnancy and post partum, requiring lots of extra comfort and support… as do you!

Enter the maternity bra: designed to grow with you, not only during pregnancy but after the birth too. Gone are the days where you need to shell out for maternity bras for pregnancy and separate nursing bras for breastfeeding. Now, the maternity bra is a 2-in-1 miracle worker (much like the women themselves!) that is equipped to handle it all.
Check out this quick Q&A to help give you the confidence to find the perfect boob crew for you.
Q: Why do I need a maternity bra – why not just use my regular bras?
A: Your boobs are going to change and take on a whole new role during pregnancy and breastfeeding. As a result, you'll need a maternity bra with extra features that will support your boobs and allow you to breastfeed with ease. Maternity bras are wirefree for comfort and designed for maximum support. They also usually include extra hooks and eyes for breast and diaphragm expansion and strong adjustable straps to grow as you do. Of course, one-handed nursing clips are a must too so you can feed bubs anywhere, anytime.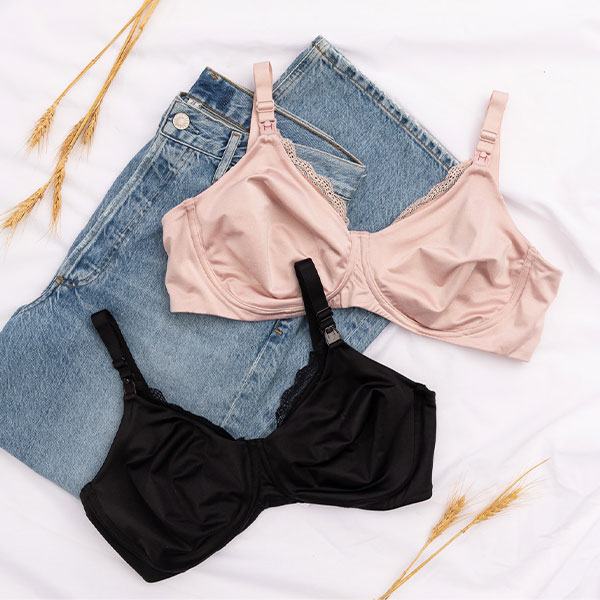 Q: Can I wear the same bra throughout pregnancy?
A: Within the first trimester, and to accommodate your changing body, we recommend putting a pause on wearing bras with underwire. Instead, opt for soft cup, crop tops or sports bras that still provide plenty of flex and support. During the second trimester, it's best to get fitted for a maternity bra, which our fitters at Myer can help with. Your third trimester will see your breasts get heavier and denser, as your body continues to get ready to give birth. This is a good time for a final bra fitting to ensure your maternity bra will adequately support you throughout your last weeks of pregnancy and beyond.
Q: What if I don't breastfeed, do I still need to buy a maternity bra?
A: Whether you're breastfeeding or bottle-feeding (or both!) your boobs are going to need a little more love, comfort and support during the pre and post partum stages. A maternity bra will certainly give you all these things, however a supportive wirefree bra is a great option too.
Q: How many maternity bras will I need?
A: We recommend at least three maternity bras – one to wear, one to wash and one spare on hand.
Q: Why can't I wear an underwire bra while nursing?
A: Wirefree is the way to go for pregnancy and breastfeeding. Underwire can put pressure on your milk ducts, which can lead to blockages and mastitis. Wirefree also feels more comfortable as your breasts fluctuate in size.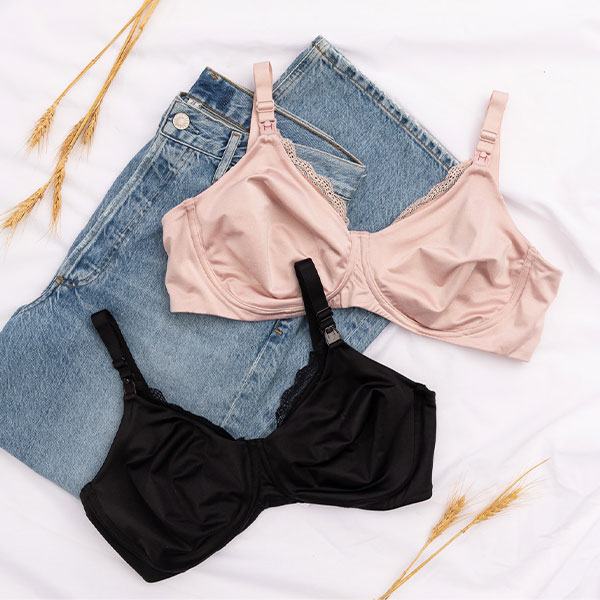 Q: If a maternity bra is designed to grow with my breasts, how will it provide optimal support?
A: From the stronger straps and back wing, to the extra hook and eyes, maternity bras are designed to minimise the stretching of delicate breast tissue, which can lead to sagging. Wearing a well-fitting maternity bra that expands will distribute breast weight evenly, easing pressure on your back, shoulders and neck. A good-fitting maternity bra also encourages good posture, which helps with upper back support.
Q: Can I wear the same maternity bras for each of my pregnancies?
A: The same rule applies here as your regular bras – your bras can be worn as long as they are still in good shape and condition and haven't lost their supportive functions. That being said, each pregnancy is different and your boobs won't necessarily be the same shape or size as your previous pregnancy. If your existing maternity bras are no longer holding up, it's time to look at something new.
Q: Is it safe to wear a sports bra when pregnant?
A: Yes, you can. Most wirefree sports bras are safe to wear throughout your pregnancy. Whether it's prenatal yoga, strength training or a simple walk around your neighbourhood, a sports bra can offer comfort and support when you need it most.
Q: What should I look for in a maternity sports bra?
A: Make sure to choose a wirefree instead of an underwire sports bra, which can put pressure on your milk ducts and lead to blockages and mastitis. While your breasts are constantly changing and expanding, it's a good idea to look for a non-restrictive yet supportive sports bra with an adjustable band and straps. For any postnatal activity, nursing clips are another handy feature you may also wish to consider.
Q: How do I care for my maternity bra?
A: Here are our top tips for washing, drying and storing your maternity bras to get the best out of them:

WASHING
We suggest washing your bra after two or three wears as it's directly in contact with your body. Don't wear the same bra for more than two days in a row as this will cause the bra to get stretched out, and reduce its longevity. Handwashing your bras in cold water is the best way to preserve them. If you decide to pop them in the washing machine, use a washbag to minimise tangling and damage. Set the machine to a delicate cycle on the lowest temperature and use a gentle detergent.

DRYING
Allow your bras to drip dry, using a towel to blot off any excess water.

STORAGE
Stack your bras vertically side-by-side in the drawer to prevent bending and denting.

if you're in need of a maternity bra, you can shop them here. Good luck mamas and mamas-to-be, you've got this!